It's been more than a year now when I have first listed the Taipei Hackerspace in the hackerspaces directory, and set up the Facebook page. I wouldn't have guessed that we get this far in such a short time, but I should have. It should be a good time ro recap things at this point.
2012 September: set up Hackerspaces.org + Facebook
2013 January: Tom reaches out to me, and gives the idea of doing a Hackerspace-themed event at Google before the Chinese New Year in two weeks time.
February: The Taiwan Maker Gettogether & Open Workshop, worked out beautifully, great people, 3 other Hackerspaces checking in over video, people learn to solder, and the hard core of the future hackerspace team is formed.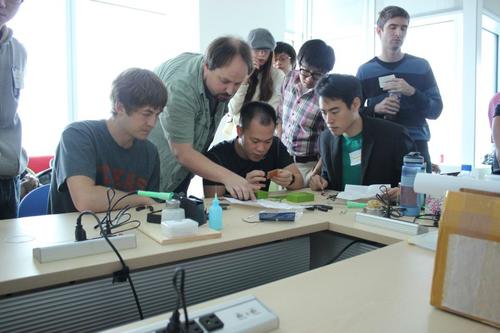 March: After about 1.5 months of looking, the team found a promising place near MRT Zhongshan Station / Taiyuan Rd. We rented it out, and at the end of the month, we celebrated that with the Hackerspace Potluck Cleanup Party. Still remember the big pile of food on the floor of the still completely empty main room…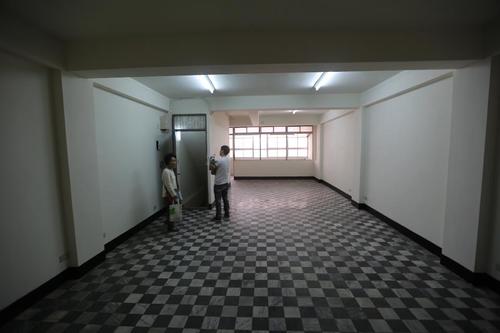 April: We have a blackboard wall. Held the first Open House event, to give a bit more structure to the space. Open house later became a regular event happening twice a month (2nd and 4th Tuesday usually)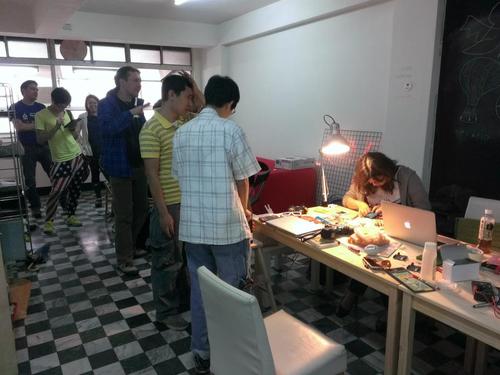 May: First regular keyholder meeting: this helped move things forward quite a bit. We have participated in the Maker Faire Taipei: even if we just had a tiny half-table, a lot of conversation and interest sparked. We are on the right path.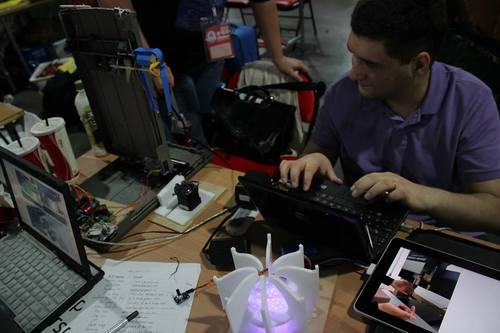 August: Instructables Build Night, Let's Play Arduino - we start to organize more events for people to join, besides everyone just using the space for whatever project they might be building. Xintian's "Thankful Donation Jar" is featured on Instructables.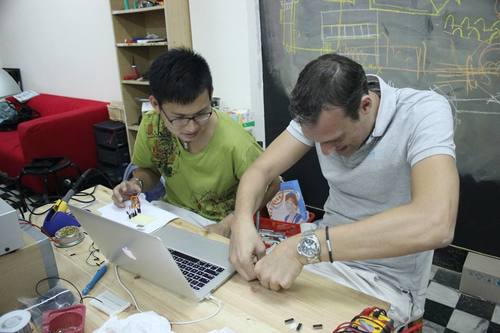 October: More events, this time less electronics and more open ended: Hacking Chinese, Publish Your First Ebook. We are still experimenting finding different audiences for our ideas.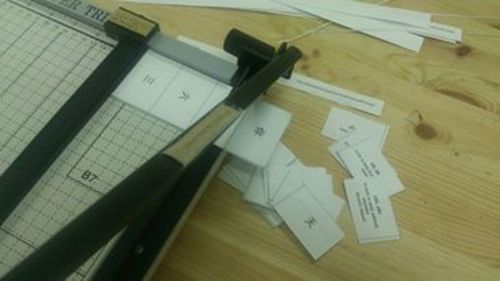 December: Another hackerspace opens at NTUST. We have applied to be a Taiwanese non-profit association - it's still ongoing, steadily making progress. Throw a Christmas party. From this month, there are regular opening hours every evening, that people can rely on more.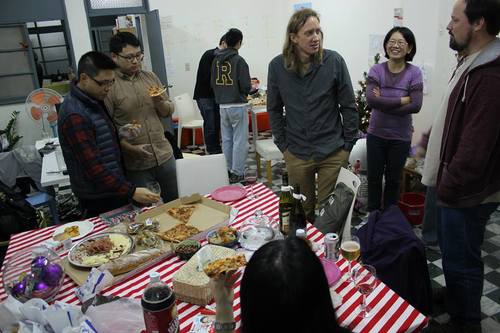 I personally had a really great time, and learned a lot. Definitely can get more things done, feel more patient (sorry when this is not obvious), and picked up a lot of practical technology. Really enjoyed seeing people growing along with the place and the community.
For the next year, I'm looking forward to:
Learning to fundraise better - seen what other projects and people did, and we need to be better at soliciting support
Finish the non-profit application - that would make things more reliable, more official, more concrete. Also a lot of work, but something's gotta give.
See more of my non-techie friends being inspired by the Hackerspace - I'm already amazed by the response so far
Build better connection with other hackerspaces around the globe
Make ourselves self-sustataining financially - absolutely necessary to secure the future of the space
See projects, companies, kickstarters launched based on work done in the space - there are already a few seeds for that
It's going to be exciting. Thanks a lot all of you, regulars, visitors, supporters, fans, and mildly curious onlookers of the Taipei Hackerspace! Cheers for an even more active 2014!
– Greg